Moderator: Moderators
Transformers Masterpiece MP-23 Exhaust @ $73NZD + shipping from HK
This price is for the Japanese import version, hence no coin.
Release date March 2015

Pre-order cut off date: 21 Sep 2014

Deposit: $15NZD

Still waiting for quotations for the Hasbro HK distributed version and if there are any late batch by sea freight options, if the offers are appealing, I will put in additional options

Shipping cost:
$25 for the first 1kg
$6.5 per additional 0.5kg
$5.5 per additional 0.5kg once over 5kg
The net weight includes the weight of the carton box itself.

[omega]
Muleac


My Kiwi Bank info:

D W K NG
38-9008-0370322-04
Attachments

10639626_688711044556766_4625818863365508883_n.jpg (57.11 KiB) Viewed 1940 times
---
One for me please Dave
---
TFNZ Moderator
Posts: 1003
Joined: Sat Oct 15, 2005 10:30 pm
Location: Rotorua and Auckland
---
I went back and checked my order list and found that I've actually only confirmed 2 x MP23 Exhaust through the Hasbro HK distributor.
The price is unchanged @ $73NZD
Phil and Regan, pls let me know if you guys are ok with it whether you still want it

cheers
---
TFNZ Moderator
Posts: 1003
Joined: Sat Oct 15, 2005 10:30 pm
Location: Rotorua and Auckland
---
Yup still want
thanks Dave
---
Hey Phil and Regan
I'm sure you guys have heard of the controversies surrounding MP23 Exhaust since its announcement.
As of now, sale of MP23 is prohibited in Hong Kong and most of the Asia region (outside of Japan)
Just want to say I'm not canceling your orders because you guys didn't get a deposit down.
Fact of the matter is that I had the order down in the books but my supplier is simply unable to fulfill it due to something beyond his control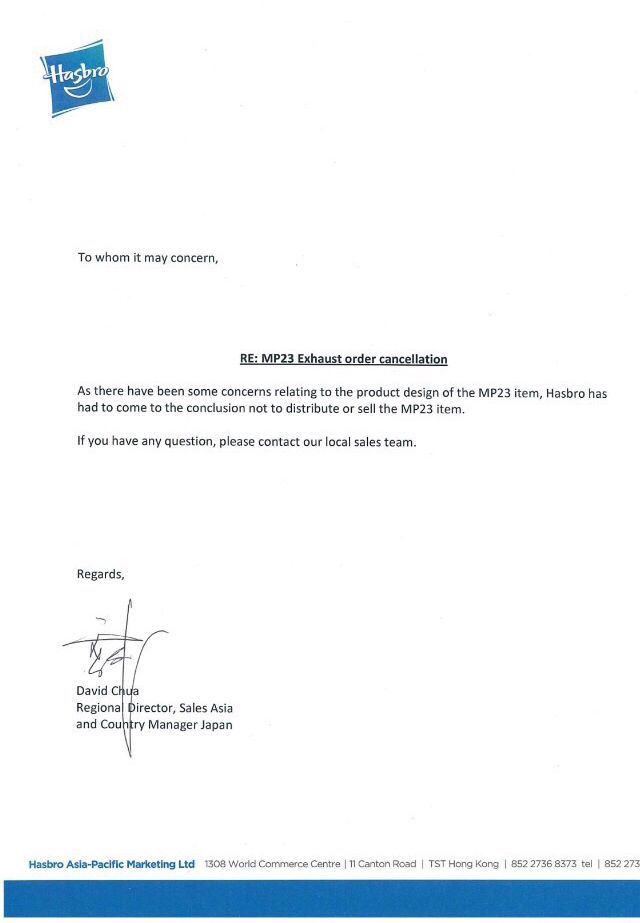 Regards
---
TFNZ Moderator
Posts: 1003
Joined: Sat Oct 15, 2005 10:30 pm
Location: Rotorua and Auckland
All good Davehammer. Out of your control mate thanks for the heads up.
---
All good Dave you tried your best and produced nothing but the best service for us.
hopefully you get back in the game
just give us heads up when you are and running again.
---
Return to Davehammer's Pre-Order Forum
Who is online
Users browsing this forum: No registered users and 2 guests