Moderator: Moderators
Decepticon Warlord
Posts: 3946
Joined: Sun Sep 04, 2005 4:47 pm
Location: CYBERTRON
Never seen that 1 on the member list before... Only "google bot" and "yahoo bot"..
INCOMING
Number of Transformers in collection. No idea ... But alot.. . (G1 MAINLY)
CHECK OUT MY STUFF ON TRADEME
(サウンドブラスター)MY COLLECTION THREAD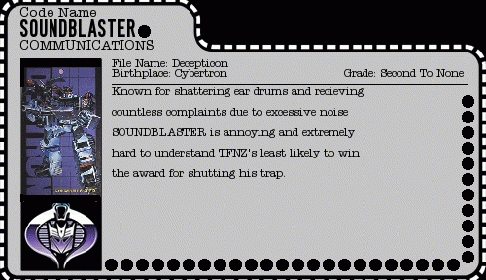 ---
Decepticon Warlord
Posts: 3084
Joined: Mon Sep 13, 2004 10:28 pm
Location: Christchurch, New Zealand
Just another web crawler bot, apparently some subsidiary company of amazon.com, just indexing pages for some purpose. Nothing particularily interesting.
Wanna help? Check out my
accessories want list
.
The proud owner of all the US G1 Transformers
---
Return to Site Questions and Suggestions
Who is online
Users browsing this forum: No registered users and 2 guests